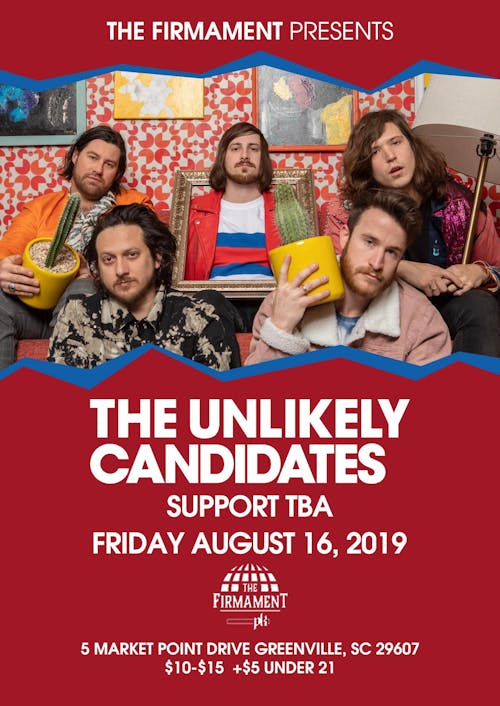 Presented by The Firmament
The Unlikely Candidates + Stereo Reform & Deion Reverie | 8.16.19
$0.00 - $15.00
Sales Ended
The Unlikely Candidates + Stereo Reform & Deion Reverie | 8.16.19
The Unlikely Candidates
Based out of Fort Worth, Texas, The Unlikely Candidates are an indie rock band initially formed as an acoustic duo by childhood friends Kyle Morris and Cole Male in 2008. Eventually expanding the lineup to include guitarist Brenton Carney, bassist Jared Hornbeek, and drummer Kevin Goddard, the band was also able to expand its sound in bigger, more sweeping directions. In 2013, the band signed on with major-label Atlantic and released their debut EP, Follow My Feet. In early 2016, the Unlikely Candidates returned with a hooky new single in "You Love Could Start a War," which made a strong showing on Billboard's Alternative Songs chart.
CONNECT & LISTEN
Stereo Reform
Stereo Reform, the 80s infused electro-funk project, came into existence at the tail end of the 2000s. Founder and frontman, Neil Turner, put the first generation of the group together in Charleston, SC with a little help from Craigslist and MySpace (Many thanks to Tom and Craig of the interwebs).
Initially drawing from Neil's library of original tunes, Stereo Reform began as a Funk Rock band. SR relocated to Los Angeles and recorded a 10 song LP, Robots of Evolution, at Killingsworth Studios with producer and former Diffuser frontman, Tomas Costanza.
The album, which was primarily featured on college and UK radio stations, was only commercially released online, but it served as a building block in the process of searching for the right sound, as well as energizing the band's first national tour. In 2013 SR released The Future Started Yesterday, recorded and produced by Atlanta's Grammy Nominated Bravo Ocean Music Group. Neil, with his former songwriting partner, worked more electronic and pop elements into the songs, and it paid off.
The album earned SR a Pandora station, licensing deals with 6 television networks, 11 TV shows, as well as Nascar, Chipotle, Leaf TV and more. The award winning music video for the song, Fire, gained the attention of Jeffery Katzenberg's Youtube Nation and was featured in a 2014 segment with MSNBC's Jacob Soborroff. Leonard Maltin gave The Future Started Yesterday two thumbs up during the album's mention on the popular podcast Doug Loves Movies. And really, who can argue with Leonard Maltin? Answer: No one, that's who. In late 2016, after teaming up with Bravo Ocean Music Group for a second time, Stereo Reform released the single, Kids Like Us.
The song introduced fans to SR's new direction, which more heavily embraced the synth and electronic sounds from the 1980s. In June 2017 SR released a new 3 song EP, PUMP CLASSIC. Carrying the torch from Kids Like Us this EP features a neon pallet of retro sounds and synthesizers.Turner recorded the hook heavy synthpop EP with producer Danny Olguin, of the vapordance duo, Carpoolparty.
http://stereoreformband.wixsite.com
Deion Reverie
Charlotte, NC based self-taught singer/producer Deion Reverie (born Montavis Deion Funderburk) has really began to make a name for himself. Shifting from post-hardcore and indie rock to slow, rhythmic electronic R&B led to Deion being discovered by frequent collaborator RedHookNoodles Beats, a Tampa based hip hop producer. Redhooknoodles discovered Deion in 2015 via Pandora Radio and immediately reached out to Deion on Twitter. Since then, they have made accumulated over 500,000 views on YouTube as a duo leading to a collaboration between Deion Reverie and Connecticut based Rapper, Witt Lowry. Deion appears on the track "Better for Me" on Witt Lowry's chart topping album "I Could Not Plan This."
You can hear elements of the mainstream R&B he listened to as a small child; the strumming and picking of the acoustic indie-folk he played in middle school; the narrative thread of Green Day's American Idiot; the rock sounds he absorbed from artists ranging from Prince to Led Zeppelin to My Chemical Romance; and the more experimental electronic music of current influences like Lapalux and XXYYXX.
https://www.facebook.com/deionreverie
YOU DON'T WANT TO MISS THIS SHOW!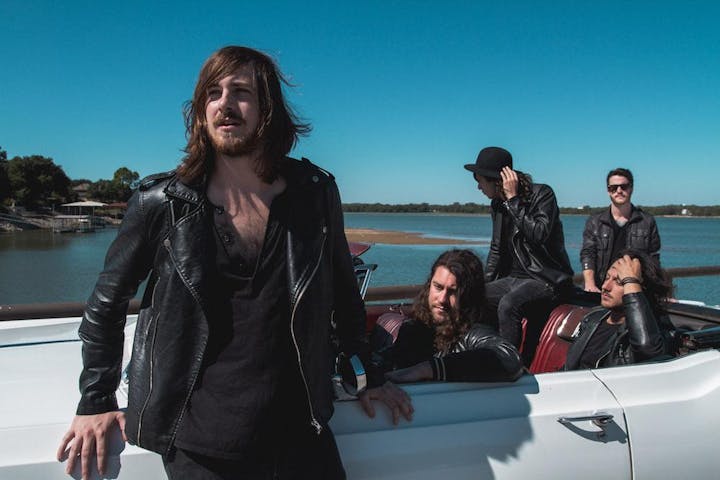 Venue Information:
The Firmament
5 Market Point Drive
Greenville, SC, 29607